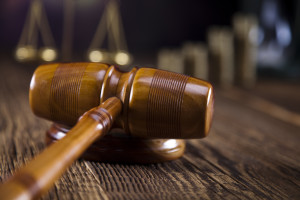 When you think of the Supreme Court, you think of old people in black robes that dispassionately determine the fate of the country's laws. That's all true, but there's more to maintaining law and order than a podium and a gavel. The Supreme Court is the apex of one of three branches in the American government:
The Legislative (the House and the Senate) passes laws
The Executive (the President) executes the laws
The Judicial (all the courts in the United States from the local courts to the Supreme Court) judges whether the laws and their execution abide by the nation's Constitution
The Supreme Court consists of nine individuals who are nominated by the President and voted in by the Senate. Once approved, they serve for life, the hope being that this allows them to judge apolitically, based on the merits of the case rather than political leaning. These guidelines are not without controversy but are critical to a healthy, democratic environment.
But this year, an election year, is different. The death of Antonin Scalia leaves the court split evenly between those who lean Democrat and those who lean Republican. Rarely in our history has an outgoing president — in his last year — been tasked with selecting such a critical Supreme Court justice.
Really, it's much more complicated than what I've described, but this isn't the place to unravel what could become a Gordian knot of intrigue over the next few months. Suffice to say, this process will overwhelm the media and your students will want to know more about what is normally a dull and boring process and why it has become foundational to our future. This provides a rare opportunity to educate them on the court system in America.