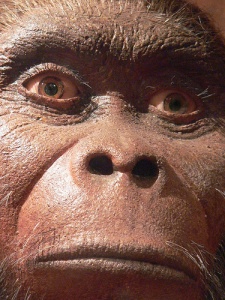 August 4, 2016
#IWSG–What's My First Piece of Writing
This post is for Alex Cavanaugh's Insecure Writers Support Group (click the link for details on what that means and how to join. You will also find a list of bloggers signed up to the challenge that are worth checking out. The first Wednesday of every month, we all post our thoughts, fears or words of encouragement for fellow writers.
This month's question – Where is my first piece of writing.
My very first piece of serious writing is out there, published. You can find Building a Midshipman on Amazon. It was inspired by my daughter's journey from high school to USNA Midshipman. That one is non-fiction.
Let's talk about fiction. My first fiction piece is Lucy: Story of Man.
…A historic thriller in the spirit of Jean Auel that follows a band of early humans as they struggle to survive in a world where Nature is King and they are prey not predators. 
I started it twenty years ago as I cracked open my initial how-to-write-fiction self-help book. I wrote hundreds of pages, changed the name ten times, submitted it for review over a hundred times. With each rewrite, the story got better, stronger, and more heartfelt. I'm still working on it. I am as passionate about it today as when I started. In fact, I'd say more so because as my writing skills have improved, I've told Lucy's story with more excitement, more emotion, and more intrigue. Right now, I think I'll publish it 2018.
More IWSG articles:
Is NaNoWriMo Important if I Don't Care About the Word Count?
Should I Continue My Newsletter?
Why do I get so few sales through Google Play?
---
Jacqui Murray is the author of the popular Building a Midshipman
, the story of her daughter's journey from high school to United States Naval Academy, and the thriller To Hunt a Sub. She is also the author/editor of over a hundred books on integrating tech into education, adjunct professor of technology in education, webmaster for four blogs, an Amazon Vine Voice book reviewer,  a columnist for TeachHUB, Editorial Review Board member for Journal for Computing Teachers, monthly contributor to Today's Author and a freelance journalist on tech ed topics. You can find her nonfiction books at her publisher's website, Structured Learning.