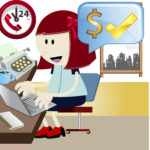 Every year, I make New Year resolutions and ignore them. I don't promise to fulfill them. I don't even check my progress and revise as needed. I make-and-forget, check it off the New Year's To Do list and move on.
This year, I'm trying something different: resolutions that aren't quantified, that won't take extra time from my too-busy schedule. Resolutions that will, instead, require me to leave the safety of "how it's always been" for the unknown world of "I've never done this before".
Here's my list:
I will learn one new tech tool a month
There are so many. I get massive lists of webtools, websites, apps, extensions, and links in my inbox, mostly proclaimed as "the tool I can't do without". Every month, I'll pick one and try it.
Just to be clear: Today's tech ed tools aren't like they used to be. The ones I'm interested in are easy-to-use, intuitive, easily differentiated for varied student needs, and free or inexpensive. Anything that requires a time commitment to learn and buckets of creativity to use is off the list. My schedule is too packed for that sort of commitment. And, I'll unpack them with the students, authentically, as part of a project we're doing. For example: I use Padlet a lot to curate and share projects. Instead, I'll use Tozzl at least once.
To get me started, would you add a comment with your favorite tool — the one I should start with in January.