November 17, 2011
Nominations For Edublog Awards Now Open!
Nominations for this year's Edublog Awards are now being accepted! This is where you can nominate your favorite blogs for a variety of awards (it's a long list, but check it out below). You can learn all about deadlines, the nominating process,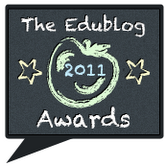 and categories at Nominations Open – The 2011 Edublog Awards are on! In a nutshell:
Write a post that includes your nominations on your blog, link to them and link to this site (See an example from 2009.)
Use the form at the bottom of this page to send us a link to your nominations
2011 Categories
Best individual blog
Best individual tweeter
Best group blog
Best new blog
Best class blog
Best student blog
Best ed tech / resource sharing blog
Most influential blog post
Best twitter hashtag
Best teacher blog
Best librarian / library blog
Best School Administrator blog
Best free web tool
Best educational use of audio / video / visual / podcast
Best educational wiki
Best open PD / unconference / webinar series
Best educational use of a social network
Lifetime achievement
Tips
Nominate in as many categories as you want
You can't nominate yourself 😉
Nominations must be made somewhere public – your blog, a forum on a ning, a school website, etc.
Even if you see your favorite has already been nominated, it is best to nominate them again
Categories are competitive, and only the most nominated will make it to the voting round
Share your nominations using twitter (#eddies11), facebook, Google+ and email
Feel free to nominate your humble webmaster at Ask a Tech Teacher.
Now back to our regularly scheduled posts…
---
Jacqui Murray is the editor of a technology curriculum for K-fifth grade and creator of two technology training books for middle school. She is the author of Building a Midshipman, the story of her daughter's journey from high school to United States Naval Academy midshipman. She is webmaster for five blogs, an Amazon Vine Voice book reviewer, a columnist for Examiner.com, Editorial Review Board member for Journal for Computing Teachers, IMS tech expert, and a weekly contributor to Write Anything and Technology in Education. Currently, she's seeking representation for a techno-thriller that she just finished. Any ideas? Contact Jacqui at her writing office or her tech lab, Ask a Tech Teacher.