In response to extensive interest from readers, Ask a Tech Teacher will be offering four Summer Learning Certificate classes with 18-24 CEUs:
June 19th through August 6th
3-4 weeks, lots of resources and hands-on help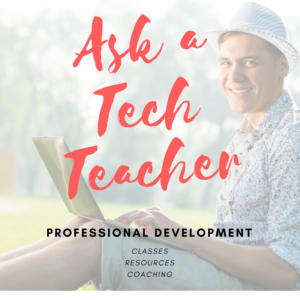 To help you make your decision, I want to share the most common questions I've gotten regarding sign ups:
Q: What is the cost to register?
The full program is $229. If you sign up by April 30th, you can enroll a friend for free. If you sign up with a group of 5, it's $750 ($150 for each person). You can enroll through the PayPal button on the website or with a school PO.
Q: I don't know which class to take.
Here's a quick checklist:
If you want a broad overview of integrating technology into your classroom, start with The Tech-infused Teacher. Follow that with the sequel, The Tech-infused Classroom (offered sequentially) if you have time.
If you took The Tech-infused Teacher last year and loved it, take The Tech-infused Classroom. It's the sequel and lets you dig deeper into what you learned last year.
If you're looking for specific help on tech tools, take 20 Webtools in 20 Days. This covers webtools teachers use most often in their classes, or want to use.
If you're looking for help specifically with using technology to add creativity and zing to your writing lessons, take Teach Writing with Tech.
Q: What if I can't figure out how to use some of the tools during the classes? I'm not very techie.
Email the instructor at askatechteacher at gmail dot com throughout the week and/or bring up your question at the weekend Google Hangout.  That's what this class is for–to get you comfortable with tech tools you want to use in your class. We'll even set up a separate GHO with you to walk you through it. Plus, you can chat with classmates through the Discussion Forum. They'll be able to share personal experiences they've had with the tools.