April 25, 2017
Summer Online PD Questions I Get
In response to extensive interest from readers, Ask a Tech Teacher will be offering four Summer Learning Certificate classes with 18-24 CEUs:
June 19th through August 6th
3-4 weeks, lots of resources and hands-on help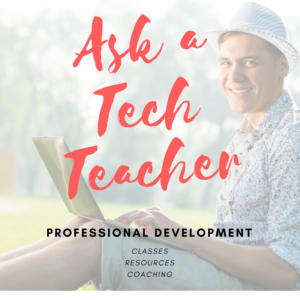 To help you make your decision, I want to share the most common questions I've gotten regarding sign ups:
Q: What is the cost to register?
The full program is $229. If you sign up by April 30th, you can enroll a friend for free. If you sign up with a group of 5, it's $750 ($150 for each person). You can enroll through the PayPal button on the website or with a school PO.
Q: I don't know which class to take.
Here's a quick checklist:
If you want a broad overview of integrating technology into your classroom, start with The Tech-infused Teacher. Follow that with the sequel, The Tech-infused Classroom (offered sequentially) if you have time.
If you took The Tech-infused Teacher last year and loved it, take The Tech-infused Classroom. It's the sequel and lets you dig deeper into what you learned last year.
If you're looking for specific help on tech tools, take 20 Webtools in 20 Days. This covers webtools teachers use most often in their classes, or want to use.
If you're looking for help specifically with using technology to add creativity and zing to your writing lessons, take Teach Writing with Tech.
Q: What if I can't figure out how to use some of the tools during the classes? I'm not very techie.
Email the instructor at askatechteacher at gmail dot com throughout the week and/or bring up your question at the weekend Google Hangout.  That's what this class is for–to get you comfortable with tech tools you want to use in your class. We'll even set up a separate GHO with you to walk you through it. Plus, you can chat with classmates through the Discussion Forum. They'll be able to share personal experiences they've had with the tools.

Q: Who are the teachers for this PD? And what are their qualifications?
The Master Teacher is Jacqui Murray. She's been teaching K-8 technology for 15 years and K-16 for 35 years. She's an adjunct professor as well as a Master Teacher. She's the author/editor of over a hundred tech-in-ed resources including a K-8 tech curriculum that's used throughout the world. She will be joined as needed by other teachers from the Ask a Tech Teacher crew.
Q: I want to sign up with several other teachers from my school. Is there a group discount available?
Absolutely! Use the group button on the sign-up page ($750). That will give you five enrollments for $150 each. Great discount!
Q: My school is getting rid of the computer lab. Will this class help me?

It sure will. The class focuses on using tech as an education tool. You will come away with dozens of tools to use tech in the grade level classroom.

Q: I would love to attend but the dates don't work for me.
You can sign up and we'll arrange 1:1 help in place of the GHOs.
Q: Where is it held? You don't mention travel or hotels.
The class is online through a class wiki (we'll send you the Join Code). You participate from your computer, wherever that is. The only set times will be the weekend GHOs or TwitterChat.
Q: Can I get professional development credit?
Yes. At the completion of each class, you get 18-24 CEUs (where available) and a Certificate of Completion itemizing what you learned in the class.
Q:  I need college credit. Is that available?
Yes! Click and scroll down to MTI 562 and/or MTI 563. Pick one and sign up. 
MTI562–similar to The Tech-infused Teacher with a few differences. For example, it's 5 weeks instead of 3 and it's graded–read the syllabus first.
MTI 563–How Technology Makes Differentiation Fast and Easy

Q: Do you have any other summer training available? 
We do! For teachers:
If you're teaching a Summer Tech Camp, click here for Build Your Own Adventure Summer School Kit.

If your students need a Summer Keyboarding class, here's a 15-hour immersive online class. There is a prize for the teacher with the most student enrollments. You could win anything from a K-8 curriculum to a class set of student workbooks (valued at $199). Enrollment is only $69 per, so it's a great deal.

Q: Can I use this toward my credential recertification?
Requirements for recertification vary from state to state. We will provide a Certificate of Completion to all who finish the class. It attests to the topics covered and the 18-24 hours required to complete the training.  Some States ask us to fill out paperwork which we're happy to do. Please check with your school for more assistance.
Since a lot of states include college credit in recertification, check out the answer to 'I need college credit'.
Q: I want to sign up. Where do I do that?
Click Summer Learning and find the class you're interested in on the list. And welcome!
If the answer to your question wasn't above, please feel free to add a comment and/or contact me at askatechteacher at gmail dot com.
---
Jacqui Murray has been teaching K-8 technology for 15 years. She is the editor/author of over a hundred tech ed resources including a K-8 technology curriculum, K-8 keyboard curriculum, K-8 Digital Citizenship curriculum. She is an adjunct professor in tech ed, CSG Master Teacher, webmaster for four blogs, an Amazon Vine Voice book reviewer, CAEP reviewer, CSTA presentation reviewer, freelance journalist on tech ed topics, a weekly contributor to TeachHUB, and author of the tech thrillers, To Hunt a Sub and Twenty-four Days (a tech thriller). You can find her resources at Structured Learning.