March 5, 2015
TurboScan–Great Class Management Tool
TurboScan
Scanning app
$2.99
A teacher friend is already stressed–and the year is only half over. Her school is putting together digital portfolios for every student which will include representative work monthly in each subject. That means posters, math papers, art projects, tests, summatives must be scanned into the server and filed in each student's digital portfolio. Not so bad if there are enough scanners and computers to get it done. Which there aren't. My friend has to wait in line, squeeze this work into breaks, or stay late or come early to try to get her portion of the work done.
One $2.99 iPad/iPHone/Android app would take care of the problem. It's called TurboScan. Using the iPad (or Smartphone) camera, you take one-three pictures of a single- or multi-page document, tweak it so it's the way you want it, email it to wherever you need it or save it to the camera roll and transfer it that way. Instead of hours, she'd be done in minutes.
Here's what you do. Open the app. Select either SureScan for documents or Camera for a picture (top of next image):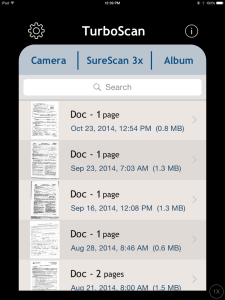 Follow the directions: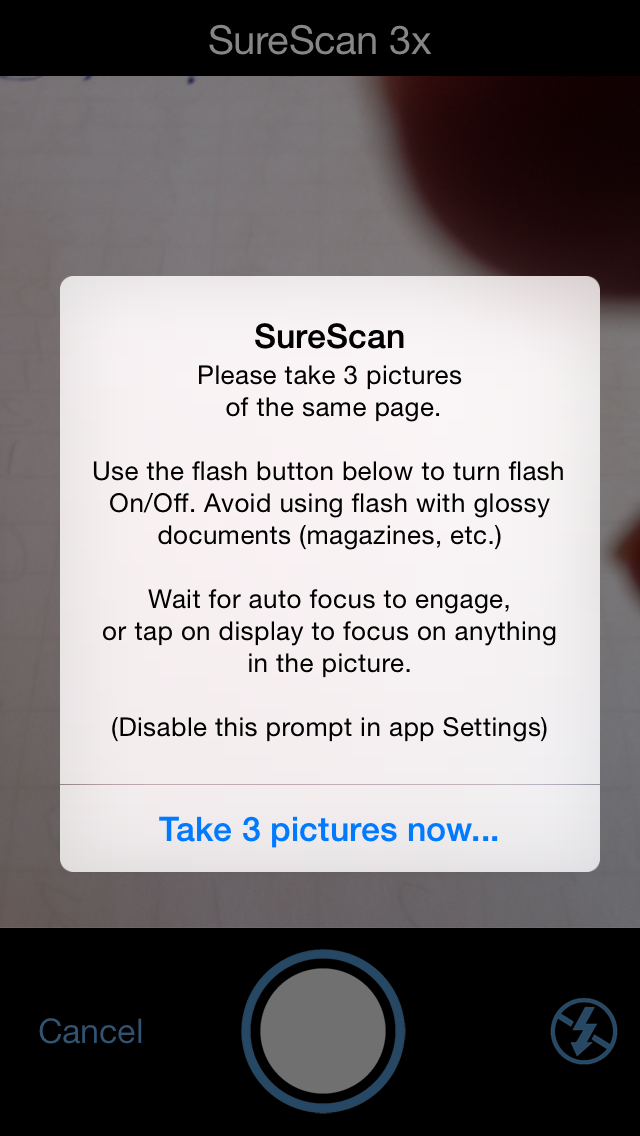 After the first picture, the app prompts you to attach more pages or click 'done'. When you're done, the app helps you adjust it for quality, then you send it out as an text message, email: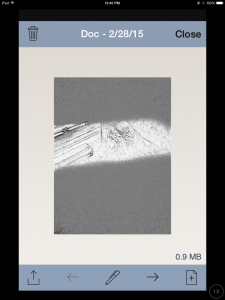 I will say, the word 'scan' is somewhat misleading. The app has two options: 1) take a picture that is saved to the camera roll, or 2) take three pictures of a document and the app merges them as a mash-up. Once the image is settled, you select lightness for ease of reading and decide where to publish it. Admittedly, the result isn't as good as my flatbed scanner, but it's always good enough. I've used it for legal documents like W9s and contractual agreements (with a signature) without a problem.
How to use it in your classroom:
Even without the requirement for digital portfolios, this is a useful app for teachers. Consider how much classwork is still done with pencil and paper–tests, posters, reports, pop quizzes. Simply scan these in, store them in the student digital portfolio, and never again worry about losing them. Think of the art teacher: Scan pictures of student work directly to the computer where it's easily accessed by any stakeholder and preserved for eternity. Kind of a digital refrigerator.
Good idea: Assign this task to students. Make it their responsibility to scan their work into their digital portfolio with the class iPad. They'll think that's fun while you'd see it as hours added to your day.
One change I would make: While TurboScan is easy to learn, getting an authentic-looking image takes some effort and maybe a few retakes. I'd like an auto-focus widget, similar to what cameras have because no one can hold a camera steady for more than a nanosecond.
Overall: TurboScan is a huge plus in every classroom. It turns any student work into a digital document (even audio recordings), which means it can be available online, in class blogs and websites, or emailed and texted to stakeholders.
More classroom management apps:
3 Classroom Management Apps You'll Love
252 Favorite IPad Apps for your Classroom
5 Apps to Help You Reach Your Zen
---
Jacqui Murray has been teaching K-8 technology for 15 years. She is the editor/author of dozens of tech ed resources including a K-8 technology curriculum, K-8 keyboard curriculum, K-8 Digital Citizenship curriculum, and dozens of books on how to integrate technology into education. She is webmaster for six blogs, CSG Master Teacher, an Amazon Vine Voice book reviewer, Editorial Review Board member for Journal for Computing Teachers, CAEP reviewer, CSTA presentation reviewer, freelance journalist on tech ed topics, a tech ed columnist for Examiner.com, and a weekly contributor to TeachHUB. You can find her resources at Structured Learning.