January 22, 2015
3 Apps to Combat Grammar Faux Pas
Grammar has often been a subject students resisted learning, were bored by, or flat out didn't understand. That's changed, thanks to the popularity of iPads and their multimedia, multi-sensory apps. Here are three apps that will turn your classroom grammar program around.
Free (fee required for full options)

4/5 stars
Overview
Called the Schoolhouse Rock of the 21st Century, Grammaropolis gamifies a subject that has traditionally been about laboriously conjugating verbs and diagramming sentences. Its eight cheery cartoon characters star in 9 books, 9 music videos, 20 animated shorts, 26 quiz categories, and a multitude of games which–when blended together–teach grammar. Through the vehicle of a map, catchy music and fast-paced lessons, students learn the parts of speech and win seals. Content is thorough, useful, and accurate, the app intuitive to use with a minimal learning curve. There is no software to download, no maintenance, no fuss. Students can sign up as an individual or through a class account where the teacher can track their progress. It's available on iPads, smartphones, and the web.The iPad app opens immediately to the student account (only one user per iPad account) while the web interface requires a log-in.
Developed by a teacher, this app does an excellent job of differentiating for varied learning styles. It has big, bold buttons, an easy-to-understand interface, and a dashboard to allow parents, teachers, even children to track progress.It is aligned with both Common Core standards and Texas Expected Knowledge and Skills Objectives for grades K-6.
Grammaropolis is aligned with both national Common Core standards and Texas Expected Knowledge and Skills Objectives for grades K-6. – See more at: http://www.techlearning.com/magazine/0007/grammaropolis/54131#sthash.bauH6spt.dpuf
Pros
The app opens quickly. Its enticing layout will keep student attention while they learn about nouns, verbs, conjunctions, and five other parts of speech. It also provides short assessments in the form of three- or ten-question multiple choice quizzes.
Cons
The Free app includes only nouns. The other seven parts of speech (verbs, adjectives, adverbs, pronouns, conjunctions, prepositions, and interjections) require a purchase that costs $1.99 for each section or $12.99 for the group.
Insider tips
The graphics and cutesy characters seem appropriate for 3rd-sixth grade, but the toe-tapping music (think of the wildly popular Schoolhouse Rock's 'I'm Just a Bill' and 'Conjunction Junction'), the charismatic characters, and the catchy lyrics makes this a favorite of even 8th graders.
Conclusion
No surprise Common Sense Media gives Grammaropolis 5/5 stars for engagement. Kids will think it's a game; adults will feel good about the time their children spend on the iPads. No higher order thinking–just good solid grammar basics.





Free
3/5 stars
Overview
Quizlet does for grammar what SpellingCity.com does for spelling. Despite heavyweight competitors like StudyBlue and CardKiwi, Quizlet had over 13 million flashcard sets created in one year. The reasons are its easy-to-use interface, its quick start, and its focus on accomplishing exactly what learners require without unnecessary clicks, questions, and the insidious creep of marketing. It's free and requires no log-in to use the teacher-created community resources. When I searched 'grammar', I found 102 options!
Once you register, you can build class flashcards in the amount of time it takes you to type in the information. You make 'index cards' which include a question and an answer, then share them with students in your classes and other teachers in your network. Users can study via flashcards, short answer, or a matching game. Collections are accessible from an iPad or the web.
Be aware: The app is different from the web. For example, here's what I see on the iPad when I open my grammar flash cards: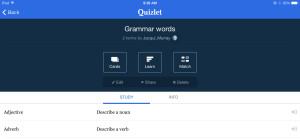 Here's what I see on the Web: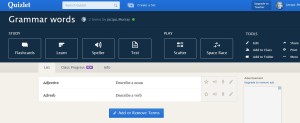 The latter offers many more study options and ways to share.
Pros
The learning curve is almost horizontal. The app is intuitive, easy to read, pokes you for information at all the right times. I had no problems, even the first time through.
No ads on the app (they are on the web version)! In an internet world where free apps usually include endless marketing, Quizlet is refreshing.
Cons
Not visual–no color variation beyond what you see in the pictures above. No images (though pictures are available in the Plus upgrade, which right now is $15 a year).
The app is limited compared to the web version. You can't create data sets from it. It offers only three learning options instead of the six+ available on the web. This limits teacher ability to differentiate for student learning styles.
Probably the most negative aspect of the app is that students can search the online database of users. There is no filter.
Insider tips
Take time to search the community offerings. When you find a teacher you like, keep track of them. Their flashcards will save you time.
Use the embed function (available only on the web) to focus students on your flashcards and prevent browsing in the Quizlet online community. Here's an example of my two-word deck:
Conclusion
Share the app with students, but use the web version to differentiate for student learning styles, add images and audio (Plus accounts only), and track classroom learning. I became a fan of Quizlet by using the web version. I'm not sure that would have happened if I'd started with the app.
Grammar lesson as it appears on the iPad
Grammar lesson as it appears on the web
Grammar quiz on the iPad

Matching game students play with grammar terms
Free (Premium membership requires a fee)

5/5 stars
Overview
No list of top grammar apps would be complete without a stellar book-reading platform. Why? Because reading comprehensively, according to most studies, requires a thorough grounding in grammar:
… readability measures are able to predict how well students will comprehend particular texts on the basis of only two variables: vocabulary sophistication and grammatical complexity. At least for the Lexile formula, grammar is much more heavily weighted than vocabulary. (–Timothy Shanahan)
and this from Edutopia guest author, Steve Peha:
By analyzing and describing sentences kids read, and using those patterns as additional models, students develop a robust repertoire of well-formed structures. 
There are many online reading platforms (Shelfari, iBooks, Kindle for instance), but for ease of use, community, and teaching opportunities, Subtext stands out. Subtext is advertised as a digital reading program for K12 classrooms, but it's much more. Teachers collect required books for their classes from online locations (DropBox, libraries, even Gutenberg Press), annotate, create quizzes, and then share with select students or the entire group. Once books show up in the student dashboard, they read, review teacher notes, engage in discussions with classmates, and take required assessments.
Subtext reads almost anything–ePubs, PDFs, Google Play  books, web articles, nonfiction. Resources can be from collections or using the 'Save to Subtext' bookmarklet. Once the book is downloaded, the teacher can highlight, add a comment, link to a video or website, and include assessments such as multiple-choice or true/false questions, or a poll.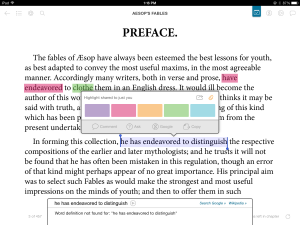 Because notes are linked to a specific passage, there's a natural emphasis on close reading, grammar and sentence structure. When the book is assigned, students read it together and share comments in a stream that's available to all of them. This becomes a reading group that can easily be differentiated for varied student needs and interests.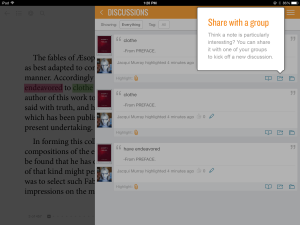 Subtext includes these free features:
Private groups to differentiate instruction
Embeddable discussions
Offline reading
Offline editing–sync when you connect
Ability to restrict student access to the web
Ability to research by double-tapping any word
Premium features include (requiring a yearly fee):
Tracking of class progress
Text to Speech
Common Core Assignments
Ability to share across a district
Pros
There are lots of how-tos and videos to support understanding of the program.
Students cannot purchase in-app.
You can log in to Subtext through Edmodo or Google Apps by syncing the programs.
Cons
While the program is not difficult, it is also not intuitive. This is a problem with all robust programs–it takes time to reach an understanding of all their parts. In the case of Subtext, there is much it can do so be patient.
Conclusion
Yes–invest your time and money into this program. It builds an authentic, student-directed, student-paced reading community.
If you're looking to set Subtext up for your classroom, check out Greg Kulowiec's post.
Help via text and video
Creat assignments (Premium feature) and roll out to assigned students
Video help on creating assignments
50 ready-to-use Assigment templates, including Common Core
Add to your personal library or a group/classroom you've joined
Common Core assistance includes, reading, vocabulary, writing–and grammar
Add books to Assignments
Add books, articles, or items from library to account
Lots of help options
These three apps provide a well-rounded grammar program for your classroom–drill,  review, and authentic use. What do you use to teach grammar in your school?
More grammar articles:
Lesson plan: Color my Grammar
---
Jacqui Murray has been teaching K-8 technology for 15 years. She is the editor/author of dozens of tech ed resources including a K-8 technology curriculum, K-8 keyboard curriculum, K-8 Digital Citizenship curriculum, and dozens of books on how to integrate technology into education. She is webmaster for six blogs, CSG Master Teacher, an Amazon Vine Voice book reviewer, Editorial Review Board member for Journal for Computing Teachers, CAEP reviewer, CSTA presentation reviewer, freelance journalist on tech ed topics, a tech ed columnist for Examiner.com, and a weekly contributor to TeachHUB. You can find her resources at Structured Learning.