February 23, 2015
Summer PD–What are you looking for?
Every summer, Ask a Tech Teacher offers summer training.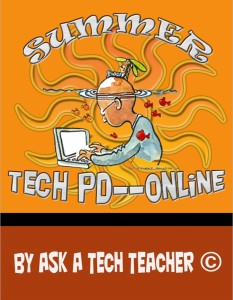 Summer Online Classes
We also offer online Summer PD on a variety of topics from specific skills (how to use Google Forms, how to use Tellagami–that sort) to overarching concepts (how to differentiate, how to scaffold learning, how to build a curriculum map). This is where we need your…
Help!
In the form below, please vote for all choices that fit your interests. Once we've determined what you-all need, we'll organize the class and notify you. Here are the choices (there's a spot to add your comments so please tell me if there's something else you want):
How to … use online tools like Evernote, Prezi,
How to… use software like MS Word, Excel, Photoshop
How to… use Google Apps in your classroom
How to… accomplish Big Goals (like problem solving, differentiation with tech)
How to … accomplish specific goals (like internet research, assessment, grading tech, create a class wiki, blog with students)
Pedagogic topics (keyboarding in class, inquiry, project-based learning)

Do you want to meet in Google Hangouts or taped webinars?
We'd love to hear from you about what you're looking for this summer as you plan your professional development.  Please take a minute to vote in this poll:
..

Curious about last year's class? Here are 11 take-aways–what the students and teachers loved about the class.
Summer Professional Development
We come to your school and train your teachers to use one of our curricula (K-8 technology, K-8 Keyboarding, and K-8 Digital Citizenship), virtually or in person. If you're interested in that, please email us at askatechteacher@gmail.com
Online Keyboarding
More on that later…
---
Jacqui Murray has been teaching K-8 technology for 15 years. She is the editor/author of dozens of tech ed resources including a K-8 technology curriculum, K-8 keyboard curriculum, K-8 Digital Citizenship curriculum. She is webmaster for six blogs, CSG Master Teacher, an Amazon Vine Voice book reviewer, Editorial Review Board member for Journal for Computing Teachers, CAEP reviewer, CSTA presentation reviewer, freelance journalist on tech ed topics, a tech ed columnist for Examiner.com, and a weekly contributor to TeachHUB. You can find her resources at Structured Learning