Subscribers to Ask a Tech Teacher get a free/discounted resource every month to help their tech teaching.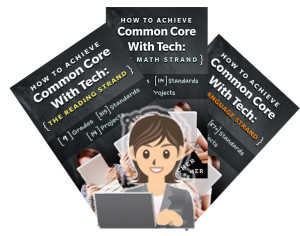 This month:
10% Discount on new Common Core Book
How to Achieve Common Core with Tech is a five-book series that focuses on using technology to meet particular strands of Common Core standards–Language, Writing, Reading, Speaking/Listening, and Math.
Over and over throughout the 150+-page Common Core roadmap to educational reform, it's clear the 21st Century learner requires technologic proficiency—digital dexterity to fuel the 'college and career' engine. One example: Common Core assessments will be completed online—only possible if students use technology as comfortably as paper and pencil to demonstrate knowledge. To accomplish this requires a seamless integration of technology into classroom curricula.
This series makes that happen. You see how to use computers, websites, tablets, graphic art, infographics, web widgets to scaffold what you already teach–easy-to-understand tech tools, no more complicated than the iPads and manipulatives you already use.
Each lesson includes
Common Core standards addressed
NETS-S Standards addressed
Vocabulary used
Time Required
Grade level recommended and suggested background
Essential Question
Big Idea
Materials required and teacher preparation
Step-by-step directions
Help with tech problems
Extensions—how to differentiate and dig deeper
5 books, 3 out now, 2 next year. Here's the run-down: