Published
Here is a collection of the books I've published both as editor and author. They're all available for sale on Amazon and a variety of other popular outlets:
Kindergarten through Sixth Grade Technology Curriculum
The choice of hundreds of school districts, private schools and homeschoolers around the world, this seven-volume suite is the all-in-one solution to running an effective, efficient, and fun technology program for kindergarten-sixth grade (each grade level textbook sold separately) whether you re the lab specialist, IT coordinator, or classroom teacher. Each volume includes technology basics all sixth graders should know, useful cloud-based Web 2.0 tools, themed units that tie into classroom units of inquiry, articles that address the pedagogy of sixth grade technology, and Scope and Sequence for a ten-month program. Each lesson includes 1) brief overview, 2) prior skills required, 3) vocabulary required, 4) difficulties students might have, if any, 5) assessment strategies, 6) knowledge, skills, and strategies students will gain, 7) connections to other curriculum areas, if any, and 8) ISTE (International Society for Technology in Education) Standards addressed. Additionally, this ten-month program highlights areas of digital citizenship and higher-order thinking skills identified as critical for students to live productive lives in our emerging global society. These areas include the ability to demonstrate creativity and innovation; communicate and collaborate; conduct research and utilize information; think critically, solve problems, and make decisions; and use technology effectively and productively. Each textbook includes free access to a wealth of online resources including teacher resources, a help blog, an up-to-date list of hundreds of websites that differentiate instruction and extend learning , and a real-time teaching wiki (contact publisher for details). Note: Color and embedded links shown in Click to Look Inside are included in pdf only.
Order a textbook and get a discounted PDF by sending the Amazon proof of purchase to the publisher.
Available in print and digital from:
Amazon.com (print)
Teachers Pay Teachers (ebooks)
Scribd.com (ebooks)
Publisher's website (print and digital)
_________________________________________________________________________________________________
35 Projects Aligned with the Structured Learning K-6 Curriculum
and National Standards
The question we get often from teachers—both new and seasoned—is: How do you teach technology skills (i.e., the use of foundational programs like word processing and keyboarding) while integrating it into classroom units AND keeping student interest?
With the right resources, that's easy. We've put thirty-five of them together in this book for you.
Each of the K-6 lessons in this book, How Technology Can Jumpstart the Inquiry-based Classed: 35 Projects That Align with National Standards, includes practical strategies for integrating technology authentically into core classroom lessons. They are easily adapted to any number of subjects be they science, literature, history, math, reading, writing, critical thinking, or another. The focus is on easy-to-use online tools (with some exceptions) that are quick to teach, inquiry-driven, intuitive, and free. You introduce the tool, demonstrate the project, answer clarifying questions, and let students' curiosity loose.
And each lesson is aligned with the Structured Learning K-6 technology curriculum. Now, you have options. Cool, isn't
Available in print and digital from:
Amazon.com (print)
Teachers Pay Teachers (ebooks–entire book or grade-level bundles)
Publisher's website (print and digital–K-6 book or grade-level bundles)
_________________________________________________________________________________________________
Keyboarding Curriculum for K-8
in 45 minutes a week
You may think it impossible to find a keyboarding curriculum that creates accomplished typists from the skimpy forty-five minutes a week you can devote to keyboarding. You teach what you can, but it always seems to be the same lessons—hands on home row, good posture, eyes on the copy. You wonder if it's making a difference.
Every year, you promise it will go better and then it doesn't. You're thinking of giving up. You have lots of friends who hunt-and-peck as adults and are doing fine. Does it even matter if students learn to touch type?
Yes, it matters, and there is a way. It requires a plan, faithfully executed, with your eye relentlessly on the goal, but if you commit to that, it works. In this book, The Essential Guide to Teaching Keyboarding in 45 Minutes a Week: a K-8 Curriculum, I'll share a keyboarding curriculum for K-8 that I've seen work on thousands of students. You'll find directions on what to do, how and when. Consider this the keyboarding version of Strunk and White's Elements of Style—everything you need in a short 110 (give or take) pages.
Amazon.com (print)
Teachers Pay Teachers (ebook)
Publisher's website (print and digital)
_________________________________________________________________________________________________
55 TECHNOLOGY PROJECTS FOR THE DIGITAL CLASSROOM
Everything you need to integrate computers into K-8 classes
Volume I and II
The all-in-one K-8 toolkit for the lab specialist, classroom teacher and homeschooler, with a years-worth of simple-to-follow projects. Integrate technology into language arts, geography, history, problem solving, research skills, and science lesson plans and units of inquiry using teacher resources that meet NETS-S national guidelines and many state standards. The fifty-five projects are categorized by subject, program (software), and skill (grade) level. Each project includes standards met in three areas (higher-order thinking, technology-specific, and NETS-S), software required, time involved, suggested experience level, subject area supported, tech jargon, step-by-step lessons, extensions for deeper exploration, troubleshooting tips and project examples including reproducibles. Tech programs used are KidPix, all MS productivity software, Google Earth, typing software and online sites, email, Web 2.0 tools (blogs, wikis, internet start pages, social bookmarking and photo storage), Photoshop and Celestia. Also included is an Appendix of over 200 age-appropriate child-friendly websites. Skills taught include collaboration, communication, critical thinking, problem solving, decision making, creativity, digital citizenship, information fluency, presentation, and technology concepts. In short, it's everything you'd need to successfully integrate technology into the twenty-first century classroom.
Available in print and digital from:
Scribd.com (ebooks)
__________________________________________________________
THE KEY TO ALIGNING YOUR K-5 CLASS WITH COMMON CORE STATE STANDARDS: 30 Projects that integrate technology into core lesson plans
30 Technology Projects Aligned With Common Core State Standards is for classroom teachers, technology integration specialists and lab professionals, as a resource for aligning their technology program with the Common Core State Standards now implemented in forty-six states. You will find it a foundational tool for scaffolding technology into the areas of math, language, reading, writing, speaking and listening as is required in CCSS. Overall, they are authentic approaches to student-centered learning, asking the student to be a risk-taker in his/her educational goals and the teacher to act as guide. The essential questions are open-ended and conversations organic and inquiry-driven, ultimately asking students to take responsibility for the process of their own learning.
It can be used as a resource book, to provide exciting new lessons that seamlessly blend technology with lesson plans and involve students in the many new tools available to enrich their educational experiences, or a road map, plotting the vertical planning and differentiated instruction fundamental to CCSS goals.
There are thirty lessons, five per grade level. Each includes:
The Common Core State Standard alignment
The Essential Question—the Big Idea
An Overview
Objectives and Steps
A Sample (where appropriate)
Links to related websites and material (where applicable)
Additional grade levels suitable for the lesson
Available in print and digital from:
Amazon.com (print–late June)
Teachers Pay Teachers (ebooks–late June)
Scribd.com (ebooks–late June)
Publisher's website (print and digital)
_________________________________________________________________________________________________
43 Themed PDF Bundles
What's included in each bundle:
Four to eight technology-specific step-by-step lessons, including reproducibles, grading rubrics, sample projects, extensions for advanced students and troubleshooting tips.

Next-day delivery via email in the universally-readable .pdf format
How projects integrate technology into your curriculum whether you're the classroom teacher, the lab teacher or home-schooling your child
A summary of each project, suggested grade level and prior knowledge, time required, software required, and projects that should be completed prior to this one
A summary of which higher-order thinking skills and which NETS-S technology-specific skills are covered
Available for next-day digital delivery from:
_________________________________________________________________________________________________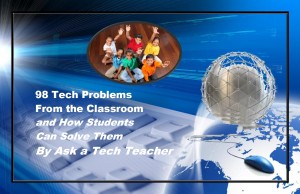 98 Tech Problems From the Classroom: And How Students Can Solve Them
Running a tech lab can be frightening. What if there's a problem you don't know how to answer? What if the computers break? What if they all break at once?
Several years ago, in an effort to create a practical strategy for technology success, I started tracking how often I got the same tech questions from students. Soon, I extended it to parents who, in a well-intentioned effort to help with school work, often got stuck on a techie issue. Some spent hours on a problem that could have been solved in minutes–if only they knew how to do that.
Turns out, 70% of the time, it was the same 98 problems.
I'm going to share these with you. You'll find them inquiry-driven and student-centered, authentic solutions to organic conversations. If you're a new tech teacher, make sure you know them because you'll be asked for these answers over and over throughout the school year—in fact, you'll be expected to know them. After all, you're the tech expert.
If you're a veteran teacher integrating technology into units of inquiry and/or Common Core State Standards, these tips will be invaluable. You are usually on your own in the classroom, without tech experts to assist. Keep this ebook handy and you'll have more time to devote to classroom projects.
Whoever you are, you'll want to teach your students these practical strategies for fixing their biggest show stoppers.

Available for next-day digital delivery from:
Teachers Pay Teachers (mid-June)
Scribd.com (mid-June)
Publisher's website (available for preorder)
__________________________________________________________
19 Posters to Decorate Your Technology Lab
19 eposters for new and experienced tech teachers to remind students of the basics of computer use. Includes keyboard tips, website usage, mouse control, how to solve common problems, parts of the computer, email netiquette, how to search, volunteer guidelines and more. Bonus: sample structure for a 45-minute tech class. A must-have for new teacher. A time-saver for everyone.
Available for next-day digital delivery from:
__________________________________________________________
38 Web 2.0 Articles That Will Turn Your Class Around
Seventy-six epages of the 38 most requested articles from Ask A Tech Teacher©. They cover critical Web 2.0 topics like how blogging makes students better writers, the importance of social media to education, how to teach keyboarding the right way, top ten tips for teaching MS Word, why technology is important for all learners, what to include on the youngest child's computer, using internet start pages in tech lab and more. Each article is quick (1-2 pages), pithy, and easy-to-understand. They're written by a working tech teacher with fifteen years experience teaching technology to all age groups.
Available for next-day digital delivery from:
__________________________________________________________
16 Holiday Projects
for Kindergarten-Eighth
A 45-epage student-tested collection of 16 holiday-themed projects for kindergarten through eighth grade using Word, Excel, Publisher, KidPix, TuxPaint, Web 2.0 tools and more. They're from the team of Ask a Tech Teacher technology teachers, designed to to be fun, festive, while teaching important tech skills. Use them for any holiday. They'll fill your year with pictures, calendars, wallpaper that kids will love making and want to give to family as gifts.Free if you buy 3 SL books
Available for next-day digital delivery from:
BUILDING A MIDSHIPMAN
How to Crack the USNA Application
You don't have to be a miracle-worker to the 10% of applicants accepted to a military academy, but you do need a plan. For the thousands of students who apply every year–and slog through the numbing concatenation of decisions preceding a nomination–there is no greater discouragement than the likely event that they will fail. This, though, is the Board's peek into an applicant's moral fiber and an important ingredient to the go/no go decision. In the words of James Stockdale, USNA '46 and Medal of Honor Winner: "The test of character is not 'hanging in there' when you expect a light at the end of the tunnel, but performance of duty and persistence of example when you know that no light is coming." This is the true story of Maggie Schmidt, an All-American kid who dreamt of attending the Naval Academy when her research into the typical Midshipman uncovered a profile alarmingly like herself. This book describes her background and academic interests, her focus, as well as her struggle to put together a winning admissions package. Along the way, you gain insight into the moral fiber that grounds everything she does and the decisions she must make that some consider impossible for an adolescent, but are achievable for thousands of like-minded teens. This workbook walks you through the long process, provides check lists of everything required, decision making matrices, goal-setting exercises to determine if USNA is a good fit for you, and a mix of motivation and academic advice to balance a decision that rightfully might be the biggest one most teens have ever made. See the publisher's website at structuredlearning.net for more details.
Amazon.com–paperback
Amazon.com–Kindle Edition
Scribd.com–ebook