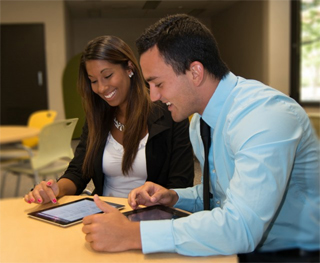 Parents often find technology a roadblock to helping their children with classwork. There are too many geeky tools with too few instructions, and every year, what they thought they understood changes. Like students, they don't want to sound like Luddites, so they struggle for a while and ultimately give up. With that comes either disinterest or pushback against your efforts to blend tech into learning. Both are dangerous to your teaching goals.
You can solve this by offering tech classes to parents, to teach them either the skills their students are learning or an introduction to tech in their lives. They can be offered while parents are waiting for students to finish after-school activities, as a brown bag lunch program, or online during evenings or weekends via Google Hangout or Skype. Which is best will depend upon the needs and schedules of your parent group. Kick off the program with a poll (use an online platform like Google Forms or PollDaddy, one students use in class) to find out what time works best.
If you find there's interest, get approval from your administration before going further. There are lots of reasons schools have for NOT offering free classes to parents. Make sure you don't infringe on any of those before proceeding.
Once you decide to move forward, determine which of two approaches work best for your needs and parent interests: