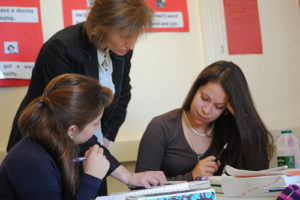 'Technology in education' has become the buzz phrase for cutting edge classes that are plugged into the latest education trends. Not surprisingly, it takes a lot more than a room full of computers, iPads, and apps to turn "tech ed" from marketing to mainstream.
For parents, where schools fall on that continuum — mostly marketing hype or taking the necessary steps to integrate tech — is critical. When you start at a new school (or classroom, or teacher), it's important to understand the part technology will take to improve educational experiences for your child. Here are fourteen question you can expect stakeholders to answer — in depth:
Who teaches students to use class digital tools?
Many teachers (too many) think students arrive at school as digital natives, with all necessary digital knowledge downloaded into their brains. This myth exploded when students taking the year-end online tests didn't know basic tech skills like copy-paste, keyboarding, using dialogue boxes, and more. So it's a legitimate question: Who teaches students how to use the school's digital devices and what training do they get to support that responsibility? Is it a one-off PD day or ongoing? Is there a tech ed curriculum to ensure topic coverage and that teaching is done "the right way" or is it up to the teacher? How does the school handle an unexpected tech need — say, programming for December's Hour of Code?