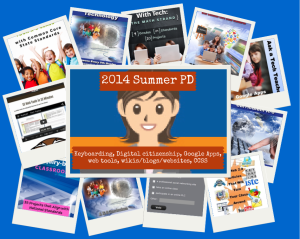 Summer PD 2014 just ended. A couple dozen of us–teachers, library media specialists, tech integrationists, lab teachers–gathered virtually for three weeks to experiment with some of the hottest tech tools available for the classroom–Google Apps, differentiation tools, digital storytelling, visual learning, Twitter, blogs, backchannels, student as digital citizen, and more (30 topics in all). PD was run like a flipped classroom where attendees picked one of two daily topics, then they read. Tested. Experimented. Failed and tried again. Asked questions. They shared with colleagues on discussion boards, blogs, Tweets. Once a week we got together on a Google Hangout (well, two because GHO only allows 10 participants) to share ideas, answer questions, discuss nuances.
The class awarded a Certificate based on effort. Not end product. Here are my takeaways as moderator of this amazing group:
They are risk takers. Kept trying long beyond the recommended hour a day in some cases.
They were curious. They wanted to get it right, see how it worked.
They are life long learners. Some had been teaching for thirty years and still enthusiastically embraced everything from twitter to genius hour.
They were problem solvers. I often heard, 'This will work with my students 'if I tweak it here, I can solve this problem'.