Kids love tablets (spelled I-P-A-D). It doesn't matter that they won't run most software, don't have USB ports, have no flash, allow very little storage, and can't print (with ease) because kids aren't using them for that. In fact, according to a report from the UK's MailOnline, most kids use tablets to play games, watch videos, and access the internet.
Which is different from how students (as a subset of 'kids') use tablets. When querying children about the education use of tablets, here's what Nielsen found: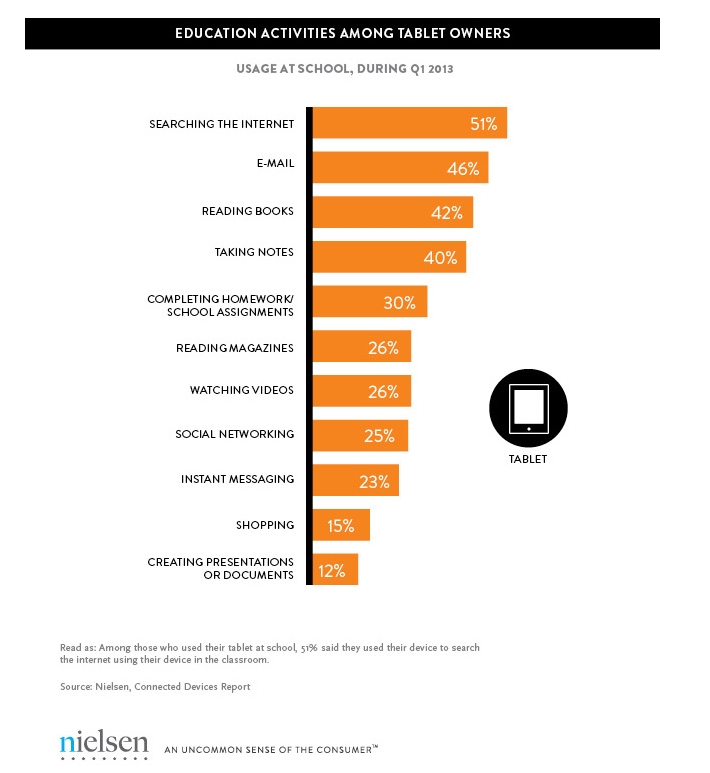 [from Nielsen's quarterly "Connected Devices Report" and similar to the Ofcom Children and Parents: Media Usage and Attitudes Report though the MUAR finds 97% of children use tablets for school.]
As a tech teacher, I was surprised at the high email ranking. Conventional wisdom says kids don't email, preferring texting, yet here, it's the #2 most popular use. At the very least, I would have put it behind 'reading books', an activity probably at the cusp of why kids received the tablet: Parents want to encourage reading.